What a premium red can mean year long
Despite general low prices for red roses in Europe and the USA (which is normal for the time period between Valentines and Mother Day), the market still seems to be responding to special varieties. «These varieties that have not saturated the market's demand, and are iconic due to their form, quality, and vase life are generating a stable higher price», explains Aviram Krell of Plantec Ecuador, a rose breeder representative and Propagator.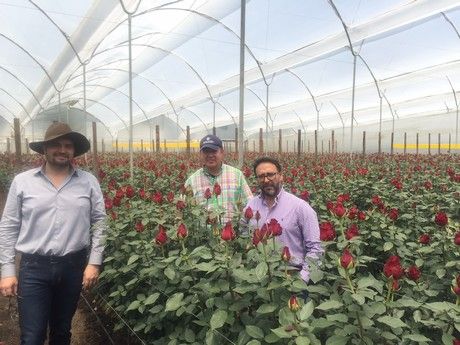 Franco Abarca (Technical Manager), Ross Johnson (General Manager) of RosaPrima with Diego Granja (Sales Representative Plantec), standing in front of their fields of Explorer.

Aviram takes the example of Explorer, a red rose variety of Interplant Roses. «This rose has become a signature Ecuadorian variety because 95% of all plants planted are being exclusively grown in Ecuador. It ensures a limited supply and is therefore directly related with markets all over the world willing to pay a premium for this variety. Even in the United States retailers and wholesalers are willing to forego red varieties with a lower price in order to obtain Explorer. This sentiment is especially strong with event organizers, wholesalers, and other entities playing at the premium market level.»
Diego Granja with Juan Francisco Canelos (Technical Manager) of
Jaap Flowers, who also grows Explorer.

Flowers prices are very dependent upon demand and supply. For this reason, Plantec was quite worried that the additional Explorer plants, that were planted in 2017, would result in an oversupply and price drop in turn. However, this does not seems to be the case. «We are seeing that this only served to position the variety in a more secure position as a premium rose world-wide», says Krell.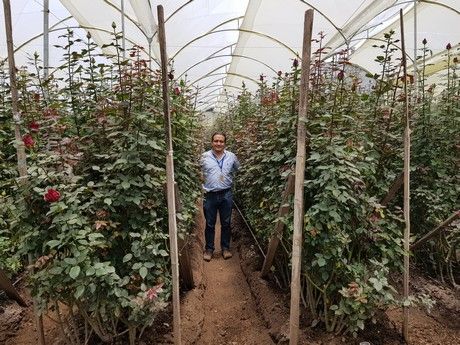 Santiago Andrade (General Manager) of Flores Verdes, who is growing Explorer as well.

And even during this time of the year, when there is an abundant availability of red roses due to the Valentine's pinch, Explorer growers still seem to be pleased with the demand. «While there are many red roses currently available, special reds, like Explorer, that have the full package in terms of form, elegance, and vase duration are still hard to come by.»
Increasing acreage?
The increase in number of Explorer plants that were planted in 2017 did not result in a drop in price, so will Plantec decide to increase the acreage of Explorer in Ecuador and maybe abroad? «We are seeing a lot of demand to increase the number of Explorer that are planted in Ecuador, so we might increase the number in the future, but we are maintaining our idea to keep it an Ecuadorian variety», says Krell. «Most of the red varieties are grown either in Colombia, Ethiopia, or Kenya, so even if we continue growing Explorer in Ecuador, it will never reach the saturation point that red varieties grown all over the world are seeing. We made sure to keep Explorer as an Ecuadorian variety after seeing what overproduction can do to a variety's price in FloralDaily's article on low prices in Europe. This made us want to try a new and different path with this Variety.»

For more information
Plantec Ecuador